Soccer Cards - Free Online Brain Game
NOTE: This is an old Adobe Flash game. It no longer works.
Please visit the Free Online Brain Games page for the current online games.
If you like soccer and card games, you'll love this Soccer Cards online game.
Compete against the opposing coach to build the best soccer team. With luck and strategy, you can win!
To begin, click the Small, Medium, or Large link under the picture of the game. This opens the game in a pop-up window.
Soccer Cards Game - Instructions
If you like this game, you might enjoy the other free online card games on this site, such as
Goodgame Poker
and
Klondike Solitaire
.
HOW TO PLAY. This Soccer Heads Game is a soccer-themed card game you play against the computer. Instead of a regular deck of cards with Aces, Kings, and so on, this game has the heads of famous soccer players.
The goal of this game is to build the strongest squad of 11 soccer players. You are dealt 5 cards at a time.
After 18 rounds of play, which adds up to the 90 minute clock displayed in-game, your points are tallied to see whether you or the opposing coach has won.
This is international soccer on the professional level. The players are from many different countries, including England, Germany, Spain, Portugal, Angola, Argentina, and many more.
There is even a tournament in this game. When you play the regular game (rather than a quick match), you can enter your name in the tournament chart. Try and win the trophy!
Each card has a point value. From what I can tell, points range from 70 to the upper 90's.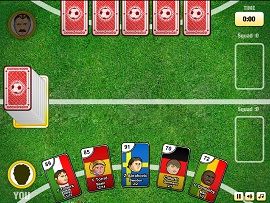 Soccer Heads Card Game
Both you and the computer coach have a shuffled deck of soccer cards. You take turns placing a card face up on the table. The highest point value card wins the hand, with a couple exceptions.
The exceptions are the Penalty plays. You can force a penalty shoot out by either playing a card of the same nationality as the computer coach played, or playing a card of the same point value, or playing a "shiny" card against a shiny played by the computer.
You can also trump the computer coach, even if your card has a lower point value, if you have two soccer players from the same nation. For example, if your English player has a lower point value than the card played by the computer, you can still win the hand by playing a second English card if you have one.
I was a little confused by the rules at first, but there is a helpful in-game Tutorial that interactively explains how to play the game.
Card games like Soccer Cards train important brain skills such as strategic thinking and concentration. Enjoy!
Published: 07/05/2016
Last Updated: 06/11/2020