Epsilon Wormhole Puzzle
NOTE: This is an old Adobe Flash game. It no longer works.
Please visit the Free Online Brain Games page for the current online games.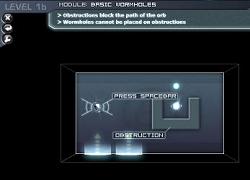 Epsilon is a fascinating puzzle game that explores the behavior of wormholes in deep space.
The game takes a few moments to load, but I think it's worth it!
To begin, click the Small, Medium, or Large link under the picture of the game. This opens Epsilon in a pop-up window.
Epsilon Wormhole Game Instructions
Wait for it to load, then click the "ENTER button" in the middle of the game.
Note: The file size of this game is a bit large, so it might take a few moments to load. This game is available only in Medium size. If you like this game, you might also enjoy the free Chronotron and Gravity Grid games.
HOW TO PLAY.  Wormholes are manipulated by clicking and dragging them around the edges of the room.
When released, the orb will fall through one and come out the other with maintained velocity and equivalent direction.
To complete a task, guide the orb into the path of all the tokens, and then into the portal to proceed to the next level.
An extra feature for solving the tasks is the ability to freeze the orb to give you time to reposition the wormholes. This can be done by pressing the Spacebar.
This is the basis of every challenge, but you will come across different devices to be tested throughout the course. These will be explained through messages in the communication panel at the top of the screen which MUST BE READ to comply with safety protocol.
- Mouse to drag wormholes around the edges of the room
- Spacebar: Release the orb/freeze the orb after it is released
- X: Reverse time
- R: Restart level
- C: Go to configuration menu
EPSILON BACK STORY. From the splash page: "In 2008, the largest particle accelerator ever created, the LHC at CERN's particle physics lab in Switzerland, was activated for the first time.
"The research obtained from this experiment has revolutionized the way we think about science. Un-answered questions that have puzzled man since the dawn of humanity are finally being answered.
"Are there extra dimensions? What is dark matter? Is time travel possible? Epsilon Experimental Sciences Research Facility aims to discover the potential of this whole new world of science, and you have been appointed as the primary test participant."
Published: 04/29/2010
Last Updated: 06/11/2020