Jul 11, 2016
A Memory Trick to Remember Languages
Want to learn a foreign language with less pain and effort? Use mental images when memorizing the foreign vocabulary.
Here's a quick example to show you how this works. Suppose you're learning Spanish, and you want to memorize "el arroz", the Spanish word for rice.
To use this trick, first think about the sound of the foreign word. Does it remind you of anything in English?
Most people studying Spanish would agree that "arroz" sounds like "a rose". To memorize that arroz is rice, all you need to do next is think of a crazy mental image that links the two concepts, rice and rose.
Here's an infographic that illustrates this link: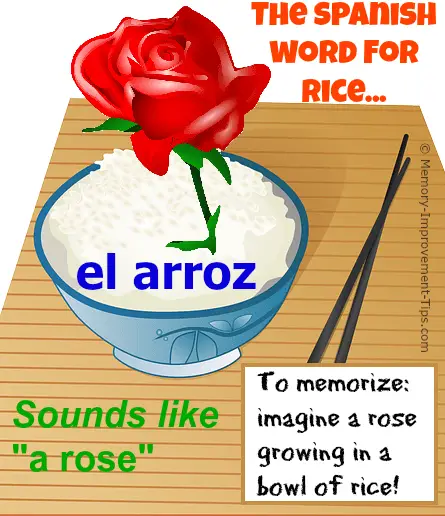 As you can see, I've created a silly image that connects a rose to a bowl of rice. Visualize this as clearly as you can.
(You only need to do this mentally. You don't need to draw it out like I've done.)
Rehearse the image. Then to recall the word for rice, think "rice" and the silly image should pop into your mind.
In your mind's eye, you'll see the rose, which should remind you of arroz, in the middle of the bowl of rice. Thus arroz is rice!
See how fun and easy the mental images technique can be? Here are some more examples. Next time you want to memorize a foreign word, give this method a try.