Jun 23, 2017
Spades Card Game - Play Free Online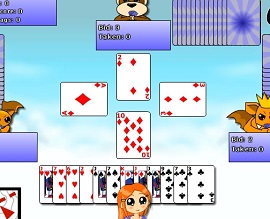 I've added a
Spades card game
as the latest free brain game on Memory-Improvement-Tips.com.
Spades is a classic popular trick-taking card game. In this version, you play on a team with a computer partner against a pair of computer players.
Make bids and take tricks to earn points. The first team to 500 points wins!
Card games like Spades train important brain skills including attention, short-term memory, and mental flexibility.
Like all the brain games on my site, this online game is free to play anytime. No logging in, no registering. Just go to the game page and start playing.
Click the link below to visit the new game page, and give this game a try.