Apr 18, 2017
Last Spy Card Solitaire - Free Online Brain Game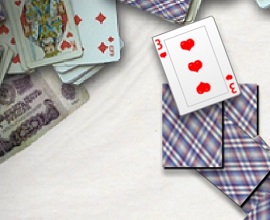 Last Spy Solitaire
has been added as the latest free online brain game on Memory-Improvement-Tips.com.
This is an unusual card solitaire game. Not only does it have a World War II Soviet theme, the solitaire game play is different than regular solitaire.
Cards are stacked upside-down in various shapes (such as a pyramid), with a few cards on top face-up. Your job is to match pairs of cards with the goal of removing all cards from the table.
But for each level you only have 5 minutes to do so! That means you have to be focused and quick.
This card solitaire game has 20 free levels of solitaire for you to solve.
Card games like Last Spy Solitaire train important brain skills including concentration and reaction time.
Like all the brain games on my site, this online game is free to play anytime. No logging in, no registering. Just go to the game page and start playing.
Click the link below to visit the new game page, and give this game a try.
Continue reading "Last Spy Card Solitaire - Free Online Brain Game"